30 vegan recipes for bodybuilding that are high in protein and perfect for athletes. These vegan recipes are excellent plant-based post-workout meals for strength training.
Protein intake is essential for strength training. If you want to build muscle, your body needs to consume enough protein to help repair muscle tissue and increase your strength. In this article, you'll find 30 Vegan Recipes for Bodybuilding that will provide the proper nourishment and fuel for your body.
According to Forks Over Knives, studies show that Vegans eat 70% more protein than they need per day compared to non-vegans. Proteins are made up of amino acids that help our bodies function properly. Amino acids help build muscle, aid in skin and hair growth, helps repair damaged tissue, etc. Protein is clearly important to athletes and bodybuilders because it encourages muscle growth and aids in workout recovery.
Best Sources of Proteins for Vegans
You'll notice that this list of 30 Vegan Bodybuilding Recipes includes a lot of beans such as chickpeas, black beans and kidney beans. This is because beans are a staple ingredient in vegan diets. Beans are high in protein and high in fiber, helping to keep you feeling full. You can combine beans with high-protein grains like quinoa and rice to make an affordable post-workout meal. Click here to check out our Ultimate Vegan Grocery Shopping List.
Did you know?
30 Vegan Recipes for Bodybuilding
Ready to start cooking? All of these recipes are excellent vegan, plant-based meals perfect for meal prep and strength training. Check out these 30 vegan recipes for bodybuilding below:
1. Chickpea Sloppy Joe
This is a great recipe from Yup, It's Vegan! These easy vegan sloppy joes are made with nutritious chickpeas, simmered with carrots and peppers in a spiced tomato-based sauce; and served on a sandwich bun with crunchy cabbage and caramelized onions. Doesn't this sound amazing? I made these a few times and it is delicious!
2. Chickpea Tuna Salad
This is our own vegan take on a classic deli style chickpea tuna salad recipe and it will blow your mind. Derived from chickpeas, this recipe uses nori to mimic the salty fish taste from seafood. Deli style vegan tuna salad will soon become your go-to favorite any day of the week. This recipe is perfect for strength training and makes an excellent post-workout meal.
3. Lentil Salad with Ginger Dressing
This cold and hearty lentil salad recipe is the perfect vegan bodybuilding dish that is packed with protein and fiber. This easy salad with ginger dressing comes together fast and is made with lentils, cherry tomatoes, kale and olives. Meal prep this recipe in advance or make fresh for a great post-workout meal.
4. Lentil Meat Loaf (Lentil Loaf)
Your life is about to change once your try this Vegan Meatloaf [Lentil Loaf] Recipe. This light, meaty-like Lentil Loaf recipe hits all the right notes. Packed with protein and vegetables, this dish is gluten-free and oil free. Make in advance of your workouts and this delicious post-strength training meal will refuel your body with protein and carbohydrates.
5. Easy Vegan Chili
This easy vegan chili recipe is so incredibly delicious and hearty that even meat eaters will love it. Packed with protein from black beans, red kidney beans and lentils, The Vegan Link's easy vegan chili recipe is a bodybuilder's best friend. You can make this recipe in bulk using an Instant Pot or regular large cooking pot. Enjoy the smokey chipotle flavors, crunchy corn and sweet onion from this recipe.
6. Overnight Oats
Overnight oats are a great on-the-go breakfast, but they can also be a refreshing treat for after a workout. Oats are high in protein with an average protein per serving of 5 grams. This recipe for overnight oats nourishes your body with healthy carbohydrates for energy, helping to refuel after an intense strength training workout. The great thing about overnight oats is that you can customize the ingredients and add extra protein like chia seeds or fruit for flavor.
7. Loaded Vegetable Tofu Scramble
Tofu scramble is the vegan equivalent to scrambled eggs. It is a soy based product packed with tons of protein, making this dish a great post-workout meal. The beauty of the Loaded Vegetable Tofu Scramble is that you can change up the vegetables you add to the dish and it's also a great way to use left oves from the day before. You can add different seasonings, like turmeric, garlic, or my favorite, taco seasoning for a tex-mex scramble. It really is a very versatile, high-protein recipe.
8. Vegan White Bean Chili
This Vegan White Bean Chili is a hearty and easy Instant Pot recipe perfect for bodybuilding meal prep. It's loaded with vegetables, beans, potatoes and flavorful spices. Add in different beans to amp up the protein per serving and add rice for complex carbs. The White Bean Chili is a rich and creamy recipe made with a base of coconut milk, salsa verde and vegetable broth. This dish lasts up to 6 months in the freezer so you can have a hearty protein post-workout meal at anytime.
9. Tofu and Vegetable Spring Rolls
I know you are thinking that spring rolls are generally light, but this recipe for Tofu and Vegetable Spring rolls meet all the macros and protein requirements for any strength training diet. These spring rolls are packed with protein from the tofu, healthy fats from avocado and good source of vitamins and nutrients from fresh vegetables. Dip these in liquid amino acids (more protein!) and this dish makes a great appetizer or side dish for any athlete.
10. Ultimate Bean and Mushroom Burger
Let's be honest, we all crave a good juicy grilled burger. While there are a ton of vegan and plant-based frozen burgers on the market, nothing tastes better than a freshly made burger. Our recipe for the Ultimate Bean and Mushroom Burger is made with fresh mushrooms, carrots, onions, garlic, black beans and pinto beans. If you are looking for a monster burger with tons of protein, fiber, vitamins and nutrients, then look no further.
11. Dijon Chickpea Salad
This might be one of my favorite recipes for a quick post-workout meal because you can make this dish in 5 minutes. Creamy Dijon Chickpea Salad is a vegan take on chicken salad. This low-cost, quick fix meal is delicious and provides the protein and nutrients to nourish the body. This recipe can be served in lettuce boats, tortilla wraps, bread or even as a dip.
12. Cacio e Pepe Oats
This dish has a creamy risotto consistency – you would never know that it is made from organic oats. This oats recipe has at least 4 grams of protein per serving, lots of fiber and no dairy. Cacio e Pepe oats are a flavorful and savory oat dish because we used vegetable broth as the base. Add in vegetables, like mushrooms, for extra vitamins and nutrients and your post-workout nourishment is ready in 5 minutes.
13. Vegan Chickpea Frittata
This vegan Chickpea Frittata recipe is a great way to start the day after am intense workout. This alternative to the traditional frittata uses chickpea flour instead of eggs, so you know there will be lots of protein packed into this vegan omelette. Add in your favorite vegetables such as bell pepper, zucchini, onions, spinach, or kale, and you have a delicious and healthy breakfast.
14. Vegan Buffalo Chicken Pizza
Post-workout meals can be healthy and naughty at the same time. I have tried Sarah's Vegan Buffalo Chick'n Pizza and it is really great. Vegan chicken strips are usually made with vital wheat gluten, which contain a lot of protein. You can top the pizza with vegetables for extra vitamins and nutrients and keep in the fridge for a not-so-bad post-workout vegan meal.
15. Sweet and Sour Tofu
Forget the take out when you can make protein filled sweet and sour tofu. This recipe is from Yup, It's Vegan and it hits all the cravings for sweet and sour chicken. Made with tofu and vegetables like peppers and garlic, this dish is nutrient dense and goes great alongside a healthy grain like quinoa.
16. Vegan Meatballs
Tender, flavorful, 10-ingredient vegan meatballs made with quinoa and black beans, perfect for post-workout nourishment. I have tried this recipe from Minimalist Baker and its great. It is infused with fresh herbs, tomato paste, and spices for big flavor. The perfect meatless meatball for pasta, sandwiches, and more!
17. Vegan Chicken
Traditionally, lean chicken breast, vegetables and a starch is the basic strength training meal for many athletes. Swap out the chicken for Vegan Chicken by making seitan. Seitan is made from vital wheat gluten and full of protein. The texture is chewy and hearty just like chicken. My favorite Vegan Chicken recipe is from Loving It Vegan and I use this recipe for my post-workout meals.
Click here to check out the recipe.
18. Vegan Tofu Fish Sticks
Once you have vegan fish sticks, you won't miss eating fish meat. This recipe is a good guideline for making tofu fish sticks that are high in protein and good for your gut health. If you are trying to be lean, you can bake these in the oven rather than frying for a healthier option. Regardless, this recipe from The Spruce Eats is a delicious plant-based meal to eat after strength training.
19. One Pan Mexican Quinoa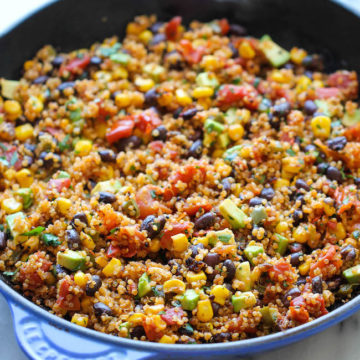 A meal fit for a bodybuilder, this protein packed dish is healthy and full of essential carbohydrates. This recipe is from Damn Delicious and judging by the pictures, this recipe does look damn delicious. It is light, nutritious and it is made in one pan. Add some beans and vegetables to amp up the protein and fiber and you got yourself a fiesta.
20. Salt and Chili Edamame Beans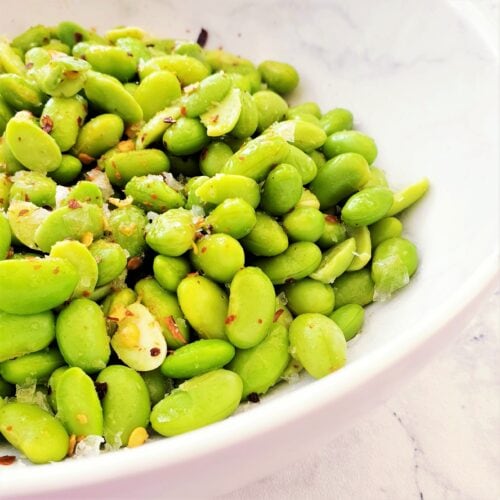 Edamame beans are a bodybuilder's secret ingredient. These beans are super high in protein and quite delicious too! I tried Feast Glorious Feast's Salt and Chili Edamame Beans and they were a great protein filled snack. This is a good option for a pre-workout snack before hitting in the gym.
21. Vegan Protein Balls
The name speaks for itself. I love this recipe for vegan protein balls from Keeping The Peas. It is a tasty treat when you are feeling a little naughty. Made with nut butter, oats and flax seeds, this protein loaded dessert hits all the right notes.
22. Mexican Vegan Black Bean Soup
This Mexican black bean soup is light on the wallet, big on taste, great for meal prep, and high in both protein and fiber. Top with avocado and lime and this recipe is sure to be a hit. It's not wonder why this delicious recipe landed a spot on our list of 30 vegan recipes for bodybuilding!
23. Miso Tofu
Make this miso tofu to add more plant-based protein to your diet. This low carb recipe is perfect for vegan keto diets, or anyone looking for a nutritious tofu recipe! 
24. Vegan Hot Dogs
Easy vegan hot dogs – just blitz everything up in a food processor and bake! Perfect with fresh avocado and ketchup. This recipe hits the spot when you are craving meat – or hot dogs! This recipe is delicious as I have tried myself and it is full of protein.
25. Vegan Protein Bars
These vegan protein bars are a great post workout snack or great for a healthy energy boost. Made with no refined sugar, they are gluten-free and dairy-fee. Make a bunch ahead of time and store in the pantry for up to a week!
26. Vegan Protein Cookies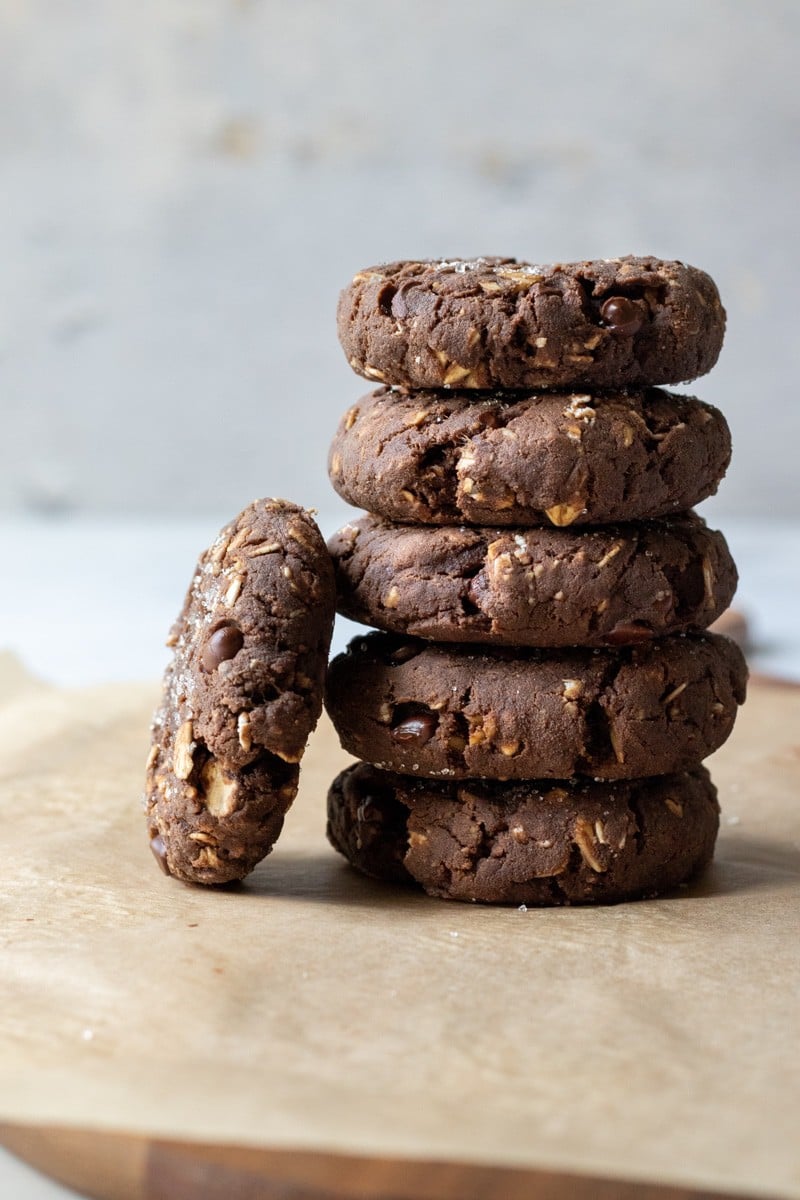 These vegan protein cookies are easy to make and packing almost 9 grams of protein per 125 calorie cookie. They're great any time of day and much more affordable than store-bought protein cookies and bars. Soft and slightly chewy, they taste like a cake-y brownie in cookie form! I have tried these myself and I had to share this amazing recipe from My Quiet Kitchen.
27. Tempeh Bacon
Craving bacon? This protein packed tempeh bacon recipe will satisfy that fix! You can make your own smoky, yummy, nutritious tempeh bacon yourself, the easy way! Just whip up a 6-ingredient marinade, chill it, and pan-fry into savory, delicious strips.
28. Vegan Chicken Piccata
This recipe is seriously amazing and it full of protein and fiber. Try these lemon-kissed cutlets the next time you want to make something special for dinner. Dianne recommends serving them them with mashed potatoes and roasted asparagus.
29. Edamame Hummus
Edamame is a great source of protein and you can transform it into hummus! Learn how to make edamame hummus with this easy recipe! Serve it with sliced crisp vegetables, crackers or pita bread for a delicious, healthy appetizer or snack. I made this recipe a few times and it is so easy and a healthy way of getting in some protein after a workout!
30. Vegan Protein Mashed Potatoes
Who doesn't enjoy a single bite, or a dozen, of creamy, smooth, intoxicatingly comforting, smashed with love, nutritionally rich, potatoes? Filled with protein, iron, and Vitamin C, you can serve and devour the Veeg's Vegan Protein Packed Mashed Potatoes without a shred of guilt!
30 Vegan Recipes for Bodybuilding
There you have it! This list has our favorite 30 Vegan Recipes for Bodybuilding that will help build muscle and provide a tasty post-workout recovery meal. Let us know in the comments if you try any of these recipes!